Outlook Email Recovery from 0KB PST File. Is it Possible?
I've seen a lot of posts on the Internet about "Outlook email recovery from 0KB PST file". I always wondered how it's possible to recover anything from a 0KB file.
Personally, I've never experienced a situation like that. But a couple of weeks ago, one of my friends faced this very situation. Since she doesn't have a sound technical background, she asked me to help her out. I found an article on the Internet while I was searching for the fix. The information I found in the article was nothing but garbage. That made no sense at all. There's nothing can be done with a 0KB PST file until unless you have its valid backup. In this article, I'll help you learn how to overcome a situation where a PST file becomes 0KB and you have no valid backup.

Most Possible Reasons
Before we can talk about the solution, it's very important to understand the reasons for this problem. If you find that your PST file has become 0KB, what will you do? Being a smart user, you should definitely try your best to find out the root cause. Shouldn't you? A normal PST file can't become a 0KB file just like that. There must be a reason for that. I've listed the most common reasons below:
Running chkdsk
The Check Disk tool (chkdsk) is used to check the integrity of the disks. It examines the disks thoroughly and fixes the errors if found. But sometimes running CHKDSK can cause "PST file becomes 0KB" issue.
Storing PST file on a network drive
This is neither recommended nor supported. You shouldn't store a PST file on a network drive or in a folder that syncs to the cloud. Any sort of error or crash in the network drive may cause serious damage to the PST file. Note: The cloud sync might have a backup copy from which you can recover the PST file.
Corruption
It's one of the most common reasons behind almost all Microsoft Outlook problems. There are various reasons which are responsible for corruption in the Outlook data file. Due to corruption, you're likely to face severe issues including this one.
Human errors
We are bound to make mistakes as long as we are human, sometimes accidentally and sometimes intentionally. Below are the two most common scenarios where a normal PST file can become a 0KB file:
You copy a PST file which is already being used by Microsoft Outlook on your computer. Though this will create the PST file, the size would be 0KB. But the original PST file remains intact. It may happen that you delete the original PST file without noticing its size. And then you realize that the PST file you deleted was the original one. Now you only have the 0KB PST file.
Sometimes it may happen that you write a PST file to a CD. And then you move it back to the hard disk. Now you try to open the PST file, but you can't open it. Instead, you receive an error message saying the Outlook file is not a personal folder file. And when you check the file size, you find it 0KB.
Is Outlook Email Recovery Possible?
A lot of Outlook users often raise this question when a normal PST file turns into a 0KB file. Unluckily, there's no way to perform Outlook email recovery from a 0KB PST file. Some people may recommend you the Inbox Repair tool scanpst.exe utility to repair PST file. But this doesn't help you. You can't restore it back to its original size. However, the Outlook email recovery is somehow possible if you have the valid backup. If you take regular backup of your Outlook data file, you have 100% chances to recover your data. You have two options here:
You can create a new PST file and then import the mailbox content from the backup by using the Import feature.
Also, you can directly use the backup file as the default Outlook data file.
But this is only possible if you have the backup file, and it should be valid. And if there's no backup available, it may become a challenging situation to handle. Below are few DIY tricks you can follow in order to perform Outlook email recovery.
Note: Though there's no guarantee that the tricks will surely work for you, there's no harm in trying them.
Use Auto-Archived PST File
If you have no manual backup, you can use the "AutoArchive" feature of Microsoft Outlook. But you can only use this option if you've enabled the AutoArchive option before. Follow these simple steps:
Step 1: Launch the Microsoft Outlook client on your system.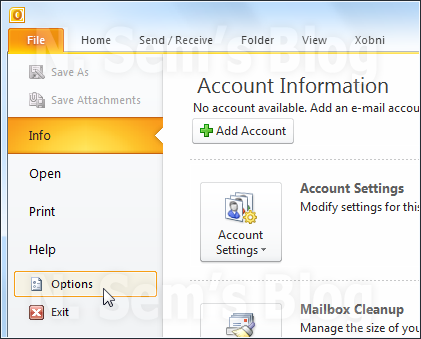 On the taskbar, click File tab > Options.
Step 2: Now click the Advanced tab in the options.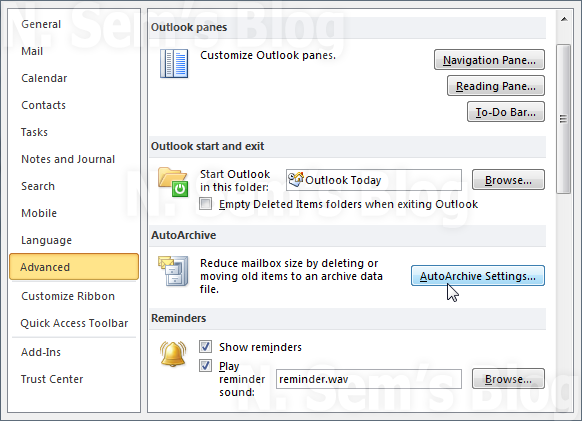 Under the AutoArchive label, click the AutoArchive Settings… button.
Step 3: On the AutoArchive dialog box, click the Browse button to locate the archive PST file.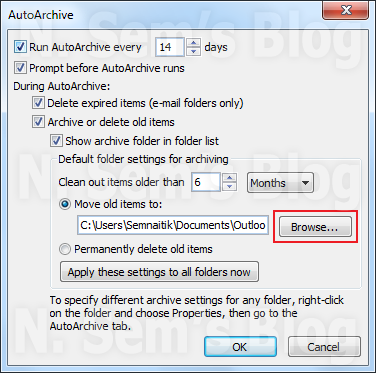 Use Previous Versions in Windows
If neither the backup is available nor the Auto-Archive option, you can still have hope for Outlook email recovery. How? You can use the Windows' "Previous Versions" feature. Follow these simple steps:
Step 1: First, locate the folder where the Outlook data file is stored.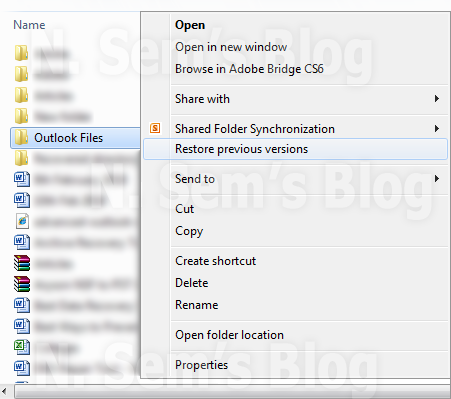 Then right-click the folder and choose "Restore previous versions" in the option.
Step 2: This will open the Outlook File Properties dialog box. Here you'll see multiple previous versions of this folder.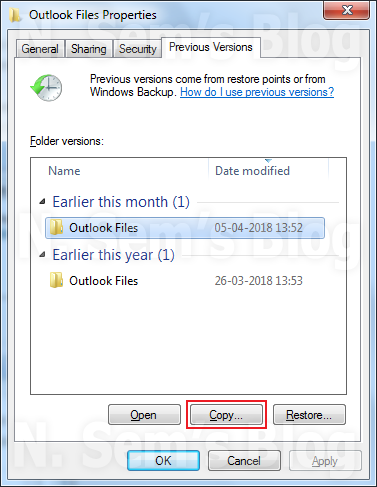 Now select the Folder versions and click the Copy… button.
Step 3: Select the place where you want to copy "Outlook Files", then click the Copy button.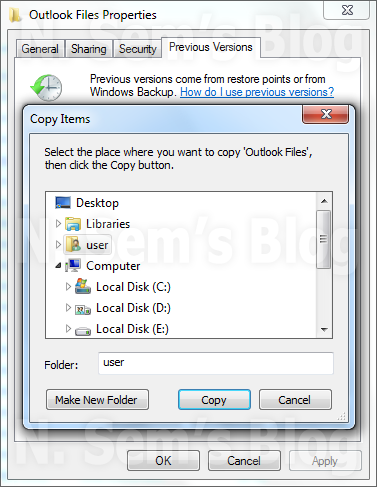 This will copy the "Previous version" of the Outlook data file.
Use 3rd Party Software
If nothing works for you, it's the time to look forward to a professional solution. Remember no 3rd party PST Recovery tool can really work for you. Some vendors claim that their PST Recovery software can really recover the mailbox content from a 0KB PST file. But that's not true at all. No 3rd party tool can perform Outlook email recovery if the PST file turns into a 0KB file. So instead of using a PST Recovery tool, you should use a data recovery tool that can restore your data from the computer. Windows Data Recovery software is one such solution that can help you recover almost everything from a damaged or corrupt hard disk.
You must be wondering how you should do that. Let me help you. If a PST file turns into a 0KB file due to any reason, you should try to recover the PST file from the computer system via a data recovery tool. But make sure that hard disk hasn't overwritten. Run the Windows Data Recovery software that'll scan the hard disk and recover almost all your data including the PST file that has turned into a 0KB file. You can check the file size. It should be the same as the original one. Now you can open the PST file in Microsoft Outlook.
Conclusion
Sometimes it may happen that the PST file you've recovered from the hard disk is corrupt. In such a situation, the file can't be opened in Microsoft Outlook. You have to repair PST file so that you can open it without any hassle. To repair PST file, I would recommend you to use the Inbox Repair tool scanpst.exe utility. You must be aware of this free built-in utility provided by Microsoft. But if the file is severely corrupt, it may fail or not work. In such a situation, you can use a professional PST Recovery tool that can repair PST file and recover your maximum possible mailbox content from it.