5 Common Outlook Problems Faced by Outlook Users
Being an Outlook user, it's very common to experience Outlook problems. Where Outlook client has many features, on the other hand, it has some serious drawbacks. Outlook users often complain about the problems they face while using the MS Outlook client. In this post, we're going to discuss the 5 common Outlook problems which you may often face. Also, you'll learn how to fix them without any hassle.
Do you agree if I say "the widespread of email technology has made communicating with each other much, much easier"? Of course, you do! Over the past few decades, email has become one of the most important communication tools for everyone. Be it a home user or any organization, everybody uses email for communication purpose. Generally, home users use web-based email clients like Gmail, Yahoo, and Hotmail. But if we talk about the users who work in an organization, they prefer desktop email clients like Outlook and Apple Mail.
For a Windows user, Microsoft Outlook client doesn't need any introduction. It's highly popular among Windows users. More than 90% of Windows users use Microsoft Outlook client. It offers you great performance and outstanding features. But sometimes when it gets stopped, it starts creating troubles for Outlook users.
Common Microsoft Outlook Problems
Whenever users face Outlook problems, they restart the Outlook program and/or the computer system to resolve the problem. This is the very first thing Outlook users try. Sometimes this common trick doesn't work for you. In such a situation, you should look into the matter a bit more deeply. The deeper you go, the better it gets. I've compiled 5 most common Outlook problems along with their quick fixes.
#1 – Outlook Error Message
"Cannot send this item."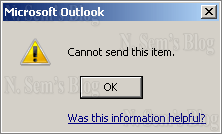 If any outgoing email message has been formatted, you're likely to confront this Outlook error message. Incorrect format of a destination of the email address is the primary reason for this error. You should definitely check the To: address first before anything else. Some Outlook versions clearly tell you that the destination email address is unrecognized. Another reason is related to HTML-based email messages.
Solution: Changing the format of the outbound message from HTML to plain text or rich text should resolve this outlook error message.
#2 – Outlook Error Message 
"Cannot open your default e-mail folders. The information store could not be opened."

This Outlook error message is one of the most common Outlook problems. You may encounter this Outlook error message while you're opening an Outlook profile. The most likely cause of this error is that the Outlook client is running in compatibility mode.
Solution: It's very easy to fix this Outlook error message. All you need to do is switch off the compatibility mode.
Step 1: First, locate the Outlook.exe. Navigate to
C:\Program Files (x86)\Microsoft Office\Office14
Find the Outlook.exe, and right-click it. In the options, click Properties.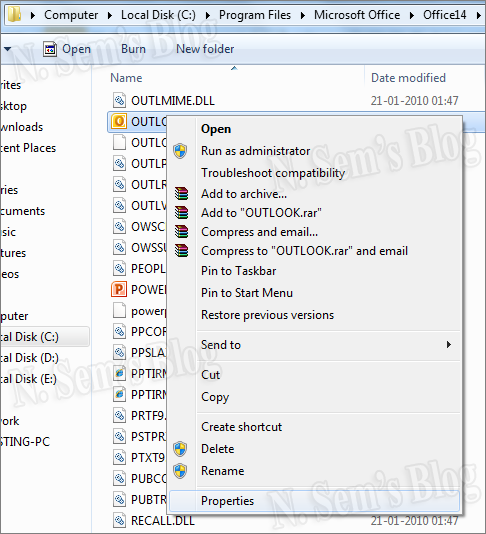 Step 2: On the Outlook Properties dialog box, click the Compatibility tab.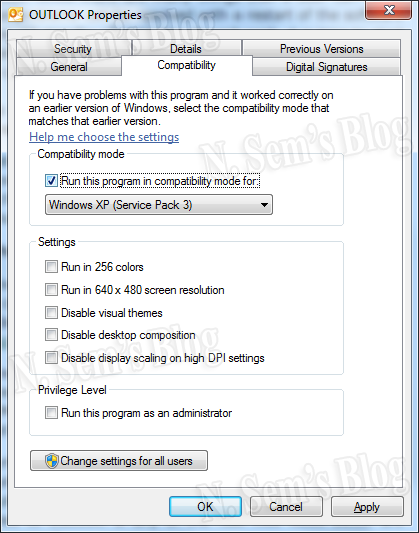 Under the Compatibility mode, uncheck the box Run this program in compatibility mode for. Click Apply > OK.
Now restart the Microsoft Outlook client.
#3 – Outlook Error Message
"Microsoft Exchange Server is unavailable."

It might be a little tricky to resolve this Outlook error message. There are various reasons which may cause this error:
No data connection: Maybe there's no data connection available. It's better to test your SMTP connection by using the Telnet. Refer to this article to know how to do that.
Office Outlook files are locked: Make sure the Outlook files, i.e. PST and OST, are not set to read-only. You can check the permissions of these two files:
For PST file, navigate to
C:Users\<username>\AppData\Local\Microsoft\Outlook
For OST file, navigate to
C:\Program Files\Microsoft Office\Office12
Solution: Make sure that neither is set to read-only.
Software collision: If the interference or collision of any 3rd party application with Microsoft Outlook client takes place, you're likely to receive this error message. Many programs including Antivirus software can interfere with Microsoft Outlook connecting to the Exchange Server.
Solution: You need to start Outlook in safe mode to check whether this is the real cause or not.
Corruption in Outlook files: Corruption might also be the reason behind that Outlook error message.
Solution: If you've recently applied an upgrade to Outlook, this may happen. Make sure these DAT(.dat) files are not present:
Extend.dat 
C:\Documents and Settings\<username>\Local Settings\Application Data\Microsoft\Outlook
Frmcache.dat 
C:\Documents and Settings\<username>\Application Data\Microsoft\Forms
Views.dat
C:\Documents and Settings\<username>\Application Data\Microsoft\Outlook
Outcmd.dat
C:\Documents and Settings\<username>\Application Data\Microsoft\Outlook
#4 – Outlook Error Message
"Not Implemented."
You may receive this Outlook error message while trying to open Microsoft Outlook. The above error message indicates that you can't open Outlook because it has been damaged.
Solution: The only solution to fix this issue is to repair Microsoft Outlook, that's it. How to repair Outlook is totally based on the version of Outlook and Windows you're using. For an example: if you're using Microsoft Outlook 2010 on Windows 7, follow these simple steps:
Step 1: First, open the Control Panel.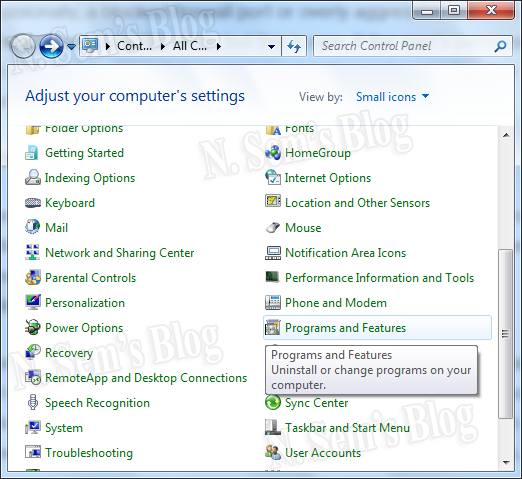 Go to the Programs > Programs and Features.
Step 2: Now find the Microsoft Outlook in the list.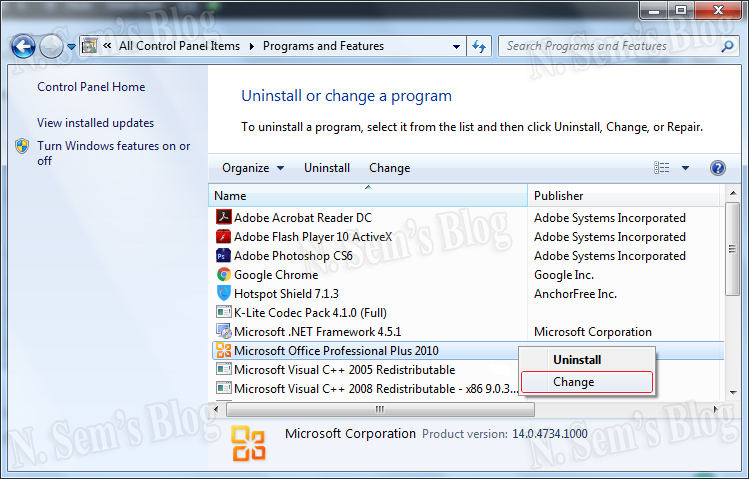 Right-click it and click Change.
Step 3: Now you can see the Microsoft Office 2010 splash on your screen.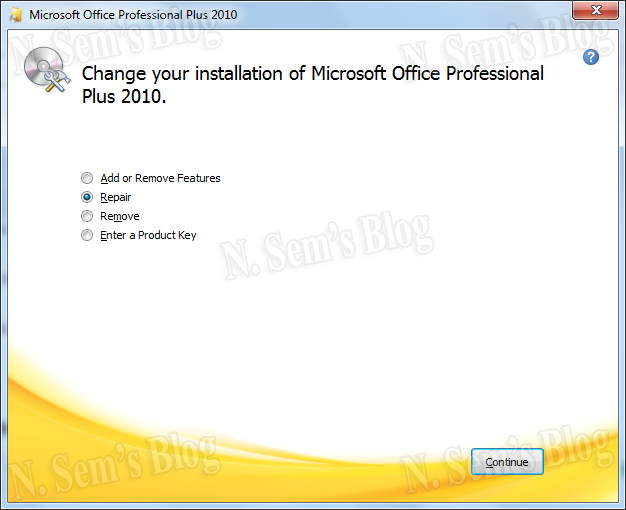 Choose Repair in the options, and click Continue.
The Microsoft Office repairing process is being conducted on your system.
#5 – Outlook keeps asking for the user's password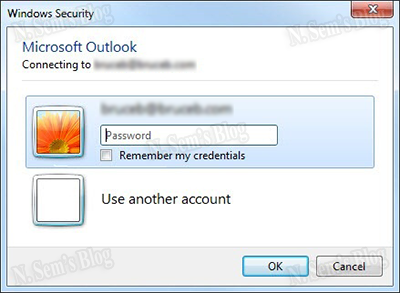 Sometimes it may happen that Outlook prompts you to enter your password every single time you send an email message. This is truly very annoying. The most likely cause is that Outlook has not been configured to store users' password.
Solution: It's very easy to fix this issue. You just need to edit the Outlook profile, that's it. Refer to this article for some useful information – Outlook Continually Prompts For My Password
Aforementioned are the 5 most common Outlook problems users often face. Additionally, some other Outlook problems are:
Mailbox Corruption
Microsoft Outlook data files, aka PST, are prone to corruption. Thankfully, Microsoft is providing you the Inbox Repair tool, aka scanpst.exe utility.  Via this utility, you can successfully scan corrupt PST file. The scanpst.exe utility is highly capable to reset the file structure and rebuild the headers. Refer to this post for complete information – Repair PST File by using Inbox Repair Tool
Multiple PST files
Sometimes PST file management becomes a challenging task if you have a large number of PST files. It's always difficult to handle a large number of files. It's better you should combine PST files into a single file. Though there's no built-in feature in Microsoft Outlook to merge PST files, you can use its Import feature to import mailbox content from two or multiple PST files into one. Refer to this post for complete information – Merge PST Files into Single File
Oversized PST file
You must be aware of PST file size limitation issue. It PST file reaches its maximum size or crosses it, it may cause great troubles for Outlook users. Poor performance and corruption are two most common problems which occur due to oversized PST file. You have two solutions here: either you can split PST file into two or multiple smaller parts or you can compress PST file by using the built-in Compact feature of Microsoft Outlook.
Outlook duplicate items
Outlook duplicate items can cause serious problems for Outlook users. It automatically increases the size of PST file and leads to performance issues and corruption. You should definitely remove Outlook duplicate items from the PST file. Refer to this post for some useful information – Smart Way to Remove Outlook Duplicates with Ease
Unlock PST file
If you forget or lose PST file password, you can't open it anyhow until unless you enter the correct password. If you're using an older version of Microsoft Outlook, i.e. 2002 or earlier, you should use PST19UPG.exe to unlock PST file without using any 3rd party tool. Refer to this article for complete information – Perform PST Password Recovery via PST19UPG.EXE