How to Save Outlook Emails to Hard Drive – Best Techniques
Summary – Backing Up data is a preventive move to data loss and deletion. Similarly, many Outlook users want to do the same because the recovery of emails is possible if you have a backup. Therefore here, you can see the various techniques to backup Outlook emails to hard drive for safety purposes. There may be a system crash or accidental deletion that leads to the loss of all your crucial information. This upcoming guide will help you how to save Outlook emails to dard drive. If you want to create backups of all your Outlook Mails then you can easily store emails on Hard Drives. Furthermore, we will discuss the two methods to export all emails from Outlook. In addition, you are also recommended to use the Sysinfo PST Converter as it helps to convert PST into various file formats like HTML, MSG, CSV, EML, MBOX, and many more.
Why There is a Need for Backup Outlook Emails to Hard Drive?
Here, we have mentioned some reasons why users are required to download Outlook emails to computer.
Hard disk Drives are more friendly-user as well as affordable as compared to other data storage devices.
As per the user's purpose, they must recommend using Hard Drives to save their crucial information from the loss of data.
Many of the Users are switching to new Laptops or PC, then they must use a Hard drive to transfer all their crucial information or Data.
How to Save Outlook Emails to Hard Drive Through Numerous Simple Techniques?
If you want to backup Outlook Emails to hard drive, then you must be recommended to follow these methods. The following methods will consist of three different methods. The first two methods are done manually and the last one is done by an efficient or automated tool. In this section, we'll go through various techniques in deep.
Technique 1: Download Outlook Emails to Computer Manually By Using Import/Export Wizard.
1. First Open MS Outlook Application.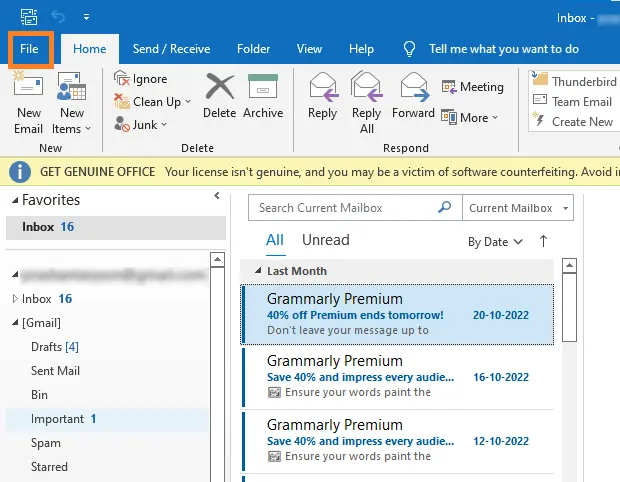 2. Then, Tap on the File Button, and select the Open & Export Option.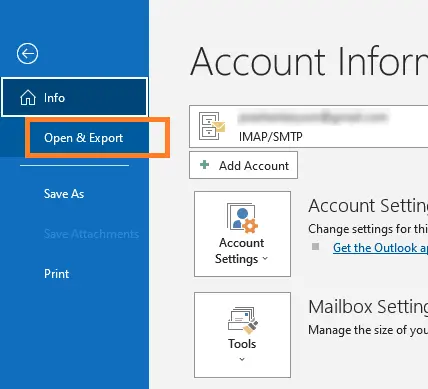 3. Select the Import/Export Option.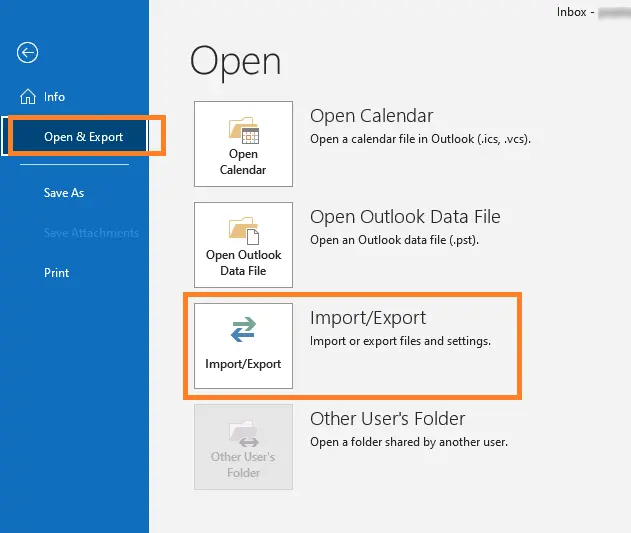 4. After Taping on the Import/Export Option, then choose Export Option.
5. Then, choose the option Outlook data file (.pst) and press the Next Button.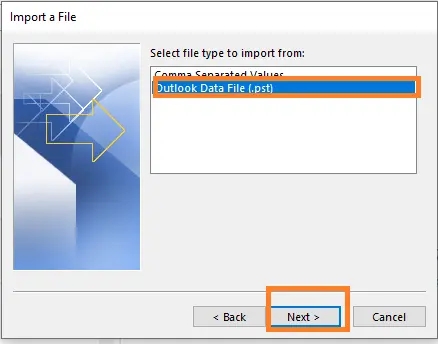 6. Moving ahead, you can choose files or folders whatever you want to export. Then, click on the Next button
.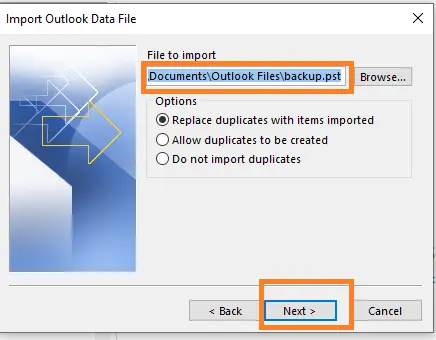 7. In the end, you can easily browse the location to download Outlook emails or any other items.
Technique 2: Export All Emails from Outlook Application
1. The primary step is open MS Outlook Application and then go to File Menu.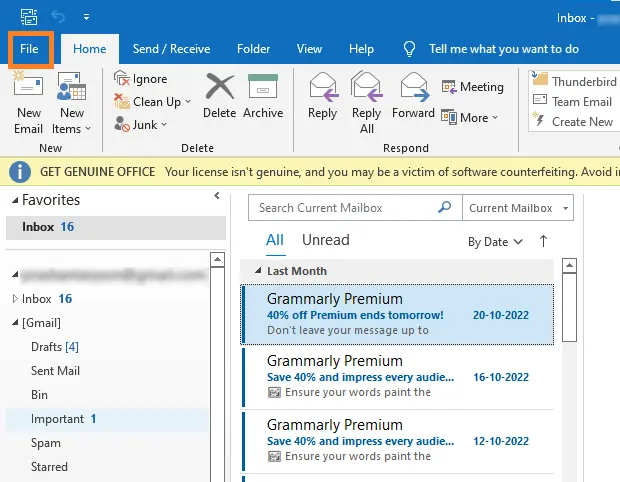 2. After that click on Account Settings. After that, tap on the option Add or Remove Accounts.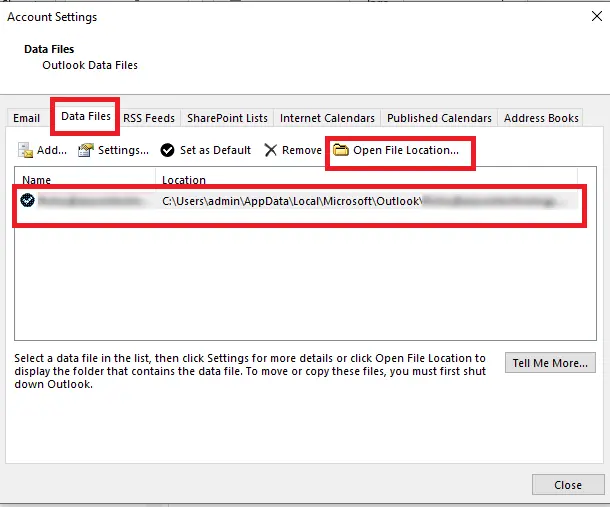 3. Moving Ahead, your window is shown like that. Then, tap on the Data Files Button > Open File Location.
4. In the end, Copy all your Outlook Files Data and transfer them to a Hard drive.
What are the Drawbacks of Doing the Manual Method?
This Manual Method does not support exporting multiple emails at once.
For both the users, non-technical as well as technical users, this method seems to be very complex.
It takes too much time to understand and perform each step.
Technique 3: How to Save Outlook Emails to Hard Drive Simply and Efficiently?
Suppose, you are facing various problems or errors while performing the manual method, then you must recommend using direct and simple software to export all Emails from Outlook. Basically, the Sysinfo PST Converter is a versatile and comprehensive tool that easily converts MS Outlook PST to PDF, and other file formats such as MBOX, EML, MSG, etc. This utility consists of two modes of PST File Conversion. Users can easily preview all their mailbox items before transforming. The foremost part is that this tool can easily convert PST files in bulk.
Steps For Saving Outlook Emails to Hard Drive:
1. First Fundamental is Download and runs the Sysinfo PST Converter Software on your local system.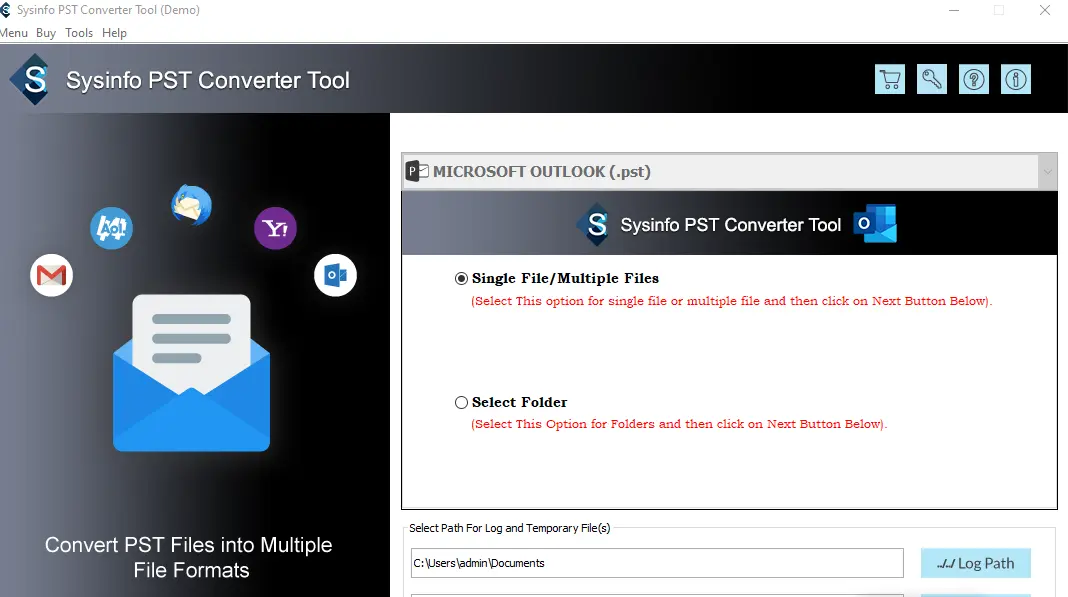 2. Then, you have to choose Multiple Files/Folder or Single Files/Folders and tap on the Next Button.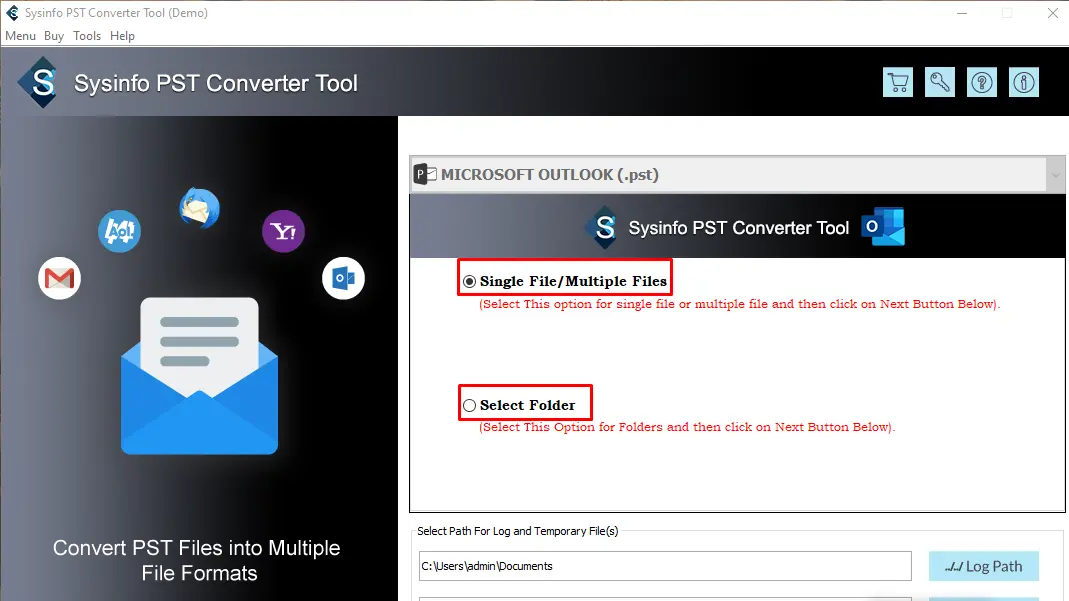 3. After that, select files or folders of PST files from Outlook emails from the system.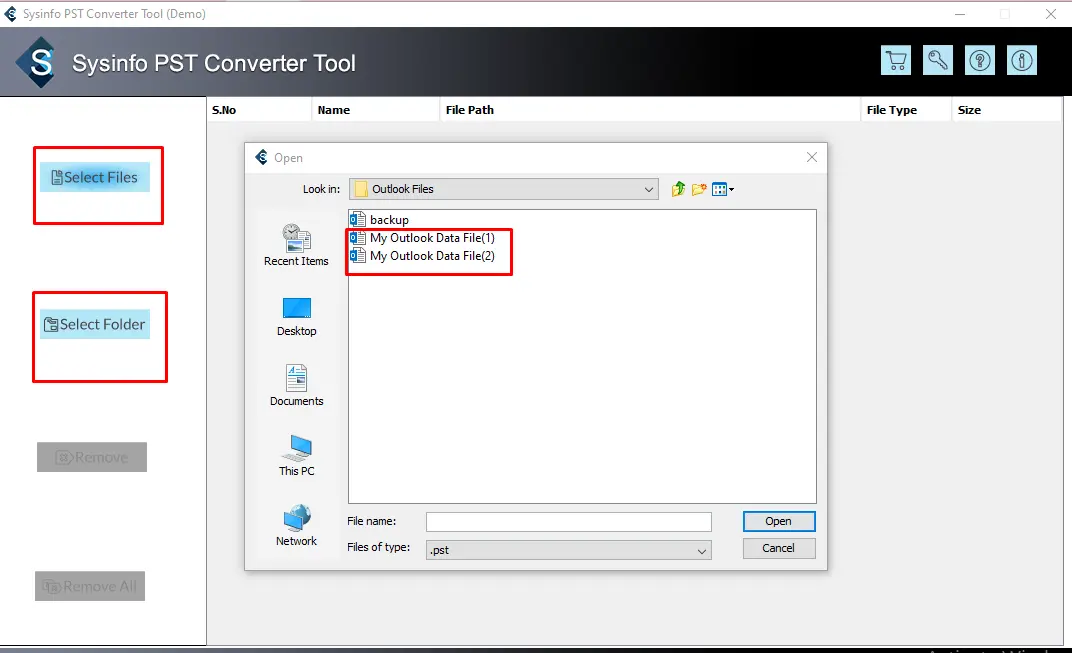 4. On your system, the tool shows the options of files, folders, and subfolders on your respected PST Files. Then, press the Next Button.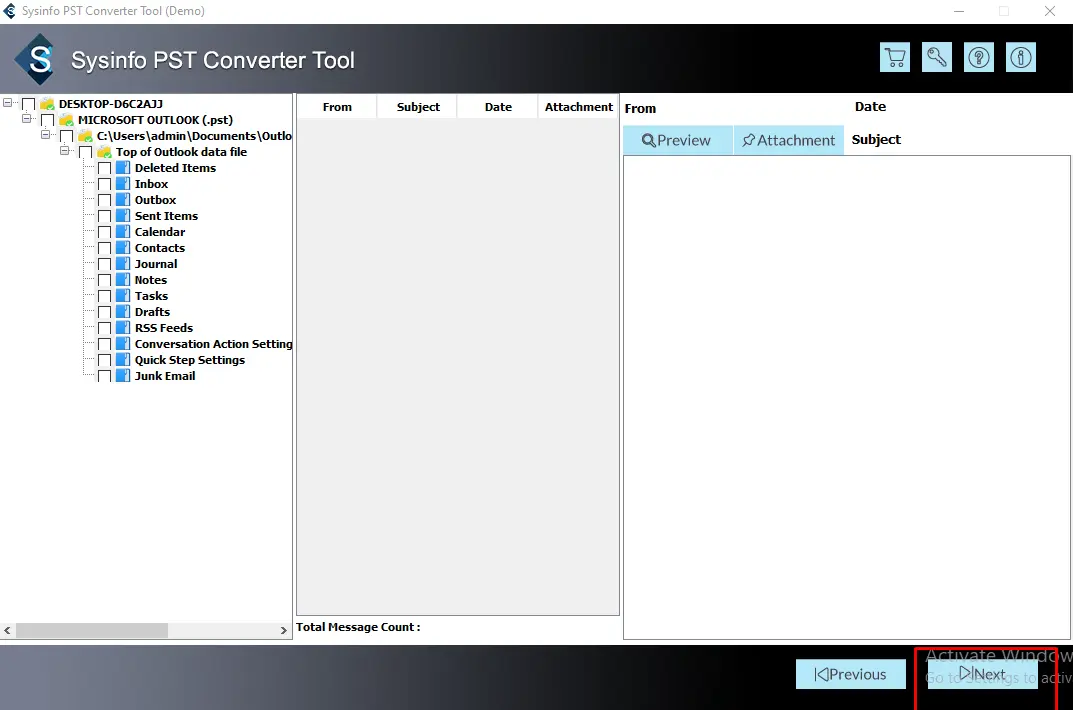 5. Users can easily preview the tree structure from where they want to change.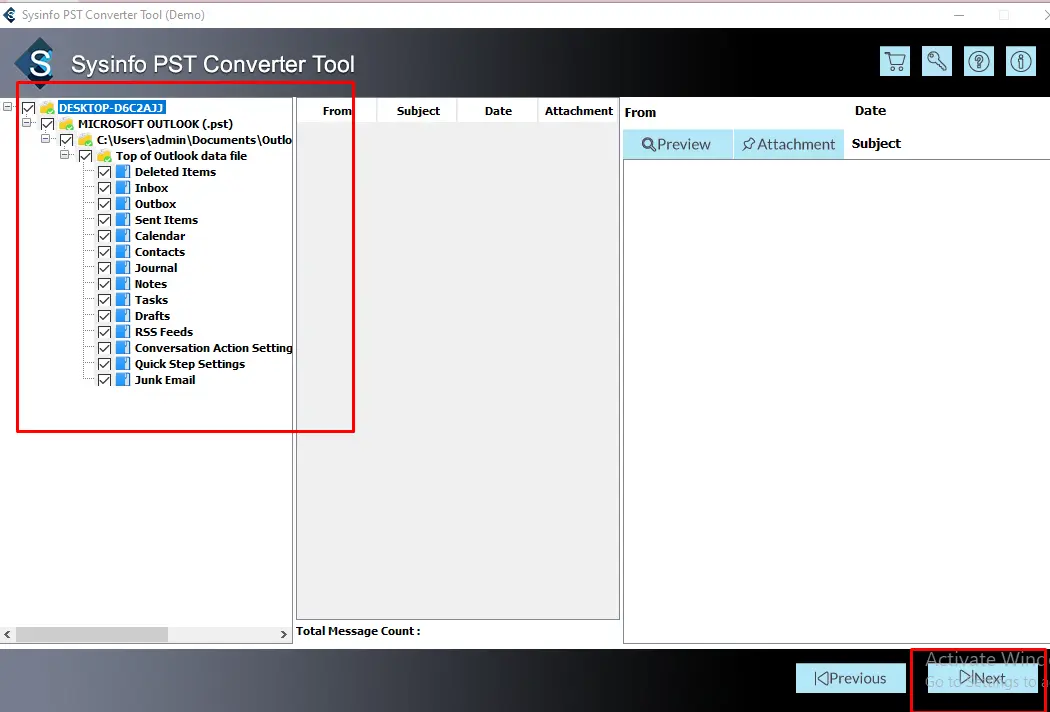 6. After that, select the PDF option from the drop-down. There are also various file formats like MBOX, EML, MSG, HTML, DOC, ICS, etc. that help to backup Outlook emails to hard drive.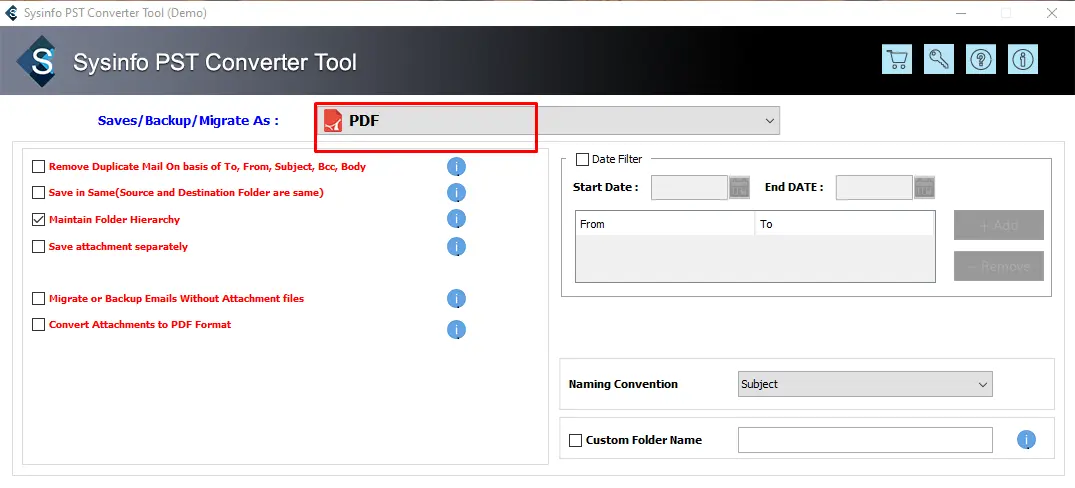 7. You can easily select one of these features if needed and tap on the convert button.
End Words
In this blog, we have learned so many things. First, we have learned what is the need to backup Outlook emails to hard drive. Then, we learned how to save Outlook emails to hard drive through various techniques. The first technique includes two fundamental steps by using MS Outlook application. And another technique consists of the tool – Sysinfo PST Converter which is a direct and efficient software. In the end, users have to choose the particular method that suits them. From my point of view, users are recommended to use the professional tool. You can also read another blog to transfer Outlook contacts to Gmail.