How to Export Godaddy Email to PST – Step by Step Guide
Summary: It has been observed that new ideas turn into entrepreneurship after the pandemic. To expose their ideas, these entrepreneurs need a web hosting registrar to register their websites, customize their websites, do email marketing and domain hosting, and manage their Workspace webmail accounts. It works as a bridge between entrepreneurs or companies and the market.
No doubt, it holds a user base of around 20+ million. But besides certain advantages, it also limits itself at some points. It does not include basic features like most web hosting companies provide free SSL certificates and free server space, but GoDaddy charges these. Apart from that, Godaddy was also in the news for data breaches. So, in these cases, we must always have an alternative in case of any emergency. We will need a professional partner Sysinfo Godaddy Email Backup Tool. Who can work to fix the problems quickly and also provide 24×7 customer support, which Godaddy doesn't provide. It allows its users to export Godaddy email to PST in bulk.
On the other hand, Outlook is a professional's first choice. It has a user-friendly feature that enables users to secure and manage their data hassle-free. So let's learn some steps for Godaddy email backup into PST file. You can also back up Godaddy Email to a hard drive or another device in PST file format using the below-described manual method.
Steps to Transfer Godaddy email to Outlook Manually
Although we are well aware of web-based clients, Outlook is the first choice of professionals. So, you can easily Export Godaddy Email to PST by following these steps:
Part 1: If you are a new user of Outlook,
1. Set up your Outlook account
2. Generate a third-party app password.
Part 2: If you are an existing user, then export emails from GoDaddy workspace Flawlessly
1. Start Outlook and enter your credentials (Godaddy Email Id and Godaddy Third-party app password).
2. Your Godaddy email is now configured with Outlook. 
3. After configuration, choose File > Open & Export > Import/Export > Export to a File > Next > Select file type (.pst) > Assign a file name and a destination location.
4. On the next screen, a pop-up appears for a password; insert the password and verify it.
5. Finally, hit Finish. 
6. Move to the selected location to view your PST file containing the Godaddy email.
What's Next, if the manual approach to Export Godaddy Email to PST failed?
As we already know, not everyone is tech-savvy. That's why they choose a third party that can manage their website tasks without disturbing their business. In this case, we need a technical partner Sysinfo Godaddy Email Backup Tool. This software export Godaddy Email to PST and other file formats like EML, MSG, MBOX, PNG, PDF, etc. Also, you can migrate GoDaddy emails into other email clients like Gmail, Office 365, AOL, IMAL, Hotmail, etc. In addition, you transfer GoDaddy email to another GoDaddy account with this reliable tool. It is not only enough to perform tasks and is easy to operate with 24×7 customer support. 
Steps to Export Godaddy Email to PST
1. Launch and run the software as an administrator.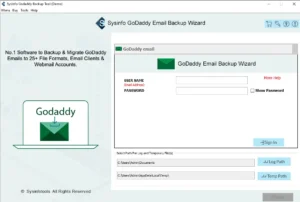 2. Enter the credentials: Godaddy Email ID with third-party app password, then Sign In.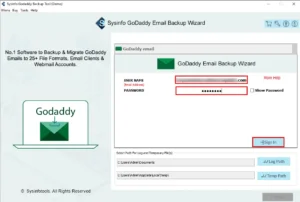 3. On the next Wizard, a tree structure with different folders appears. Then check the folder as per need and click Next.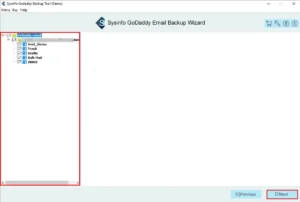 4. Then, choose the saving format as PST from the drop-down list.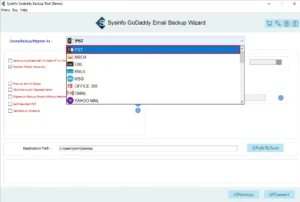 5. This Wizard also provides you with options to select, like Remove Duplicate emails and maintain Folder hierarchy (check these features, if required, as these features help you to free your server space and also maintain folder hierarchy as source folder).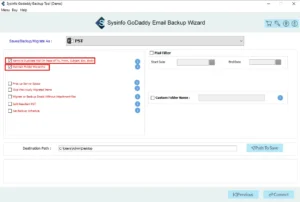 6. Additionally, it also allows you to check Free-up Server Space, Skip Previously Migrated Items, etc. (These features help you free your server space and also do not save emails that are already downloaded).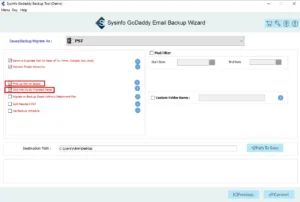 7. You can also check the features of 'Migrate emails without attachments' to save your file safely. Apart from that, you can also split your PST files.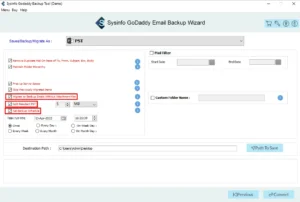 8. In case you are busy and forgot to migrate your data safely, then this software provides you with the feature to Set a Backup Schedule, which you can manage on a daily, weekly, or monthly basis (as per your requirement).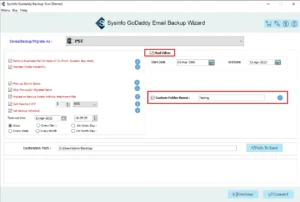 10. Next, you can filter your mail between two date ranges as per requirements.
11. Then assign a name to your file, and click Path to Save.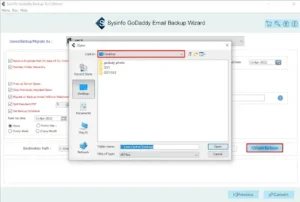 12. Click Convert to export GoDaddy emails into a PST file successfully.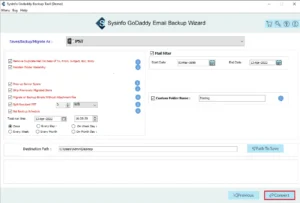 13. Finally, you can also download your conversion report.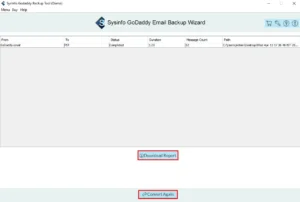 Conclusion
We've seen it in the preceding debate. Godaddy, undoubtedly, is a webmail provider with over 20 million users. However, due to several flaws, young businesses do not have enough time to address any problems; they need to export Godaddy Email to PST. In this instance, we propose working with a technical partner like Sysinfo Godaddy Email Backup Tool, who can resolve your concerns while allowing you to focus on your company. Also, check another blog to export Godaddy Email to Gmail.