Deleted Photo Recovery – Free Photo Recovery Software
Have you lost pictures and photos from the system or digital camera? I can imagine what you're going through. Photos and pictures are very important part of our lives. You can't afford such a loss which may be caused due to any reason, be it accidental deletion or corruption. Now you must be looking for a solution. If you have a backup, you can restore lost photos from it. But if you don't have it, you must try Photo Recovery software to recover pictures and photos from storage media. Before you can restore lost photos or recover deleted pictures and other images files from the storage media, you must know what exactly photo recovery is and why you need it.

Photo Recovery – An Overview
Photo recovery is a process in which users restore lost photos and pictures from the corrupt/damaged storage media, be it internal or any external. Also, photo recovery is useful in a case of accidental deletion and after formatting the drive. It's a part of data recovery, hence uses same recovery algorithm to recover deleted pictures from the storage media. Data loss is one of the most common problems faced by almost every single computer user. Loss of digital pictures and photos is also a common type of data loss. There are two most common reasons for data loss: accidental deletion and corruption.
Data Deletion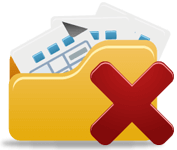 Deletion is a process in which you delete some of your data accidentally or intentionally from the computer or any other storage device. If it's a temporary deletion, the files will go to the Recycle Bin so you can easily restore them back. But, unluckily, if it's a permanent deletion (Shift + Del + Enter), data recovery will become a tedious task for you. Accidental or intentional formatting of volumes, drives and other storage media which contain your images, photos, and pictures, can also cause data loss.
Corruption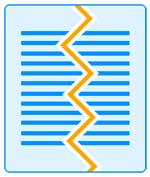 Corruption is another common reason for data loss, temporary as well as permanent. Generally, corruption occurs in the boot sector of the storage media and file systems and makes the files inaccessible. The possible reasons for corruption are hard disk failure, abruptly system shutdown, virus attacks, deleting system files, human errors, etc. Sometimes corruption can make your computer system inaccessible so you can't open or access any of your files. Just like any other computer file, digital photos, pictures, and other images files are prone to corruption.
Both the reasons are included in the logical failure. Sometimes hardware failure may also result in data loss. It includes physical damage to the storage media, be it internal hard disk or an external storage media. Due to hardware failure, the computer fails to recognize the drive or card you're inserting into it.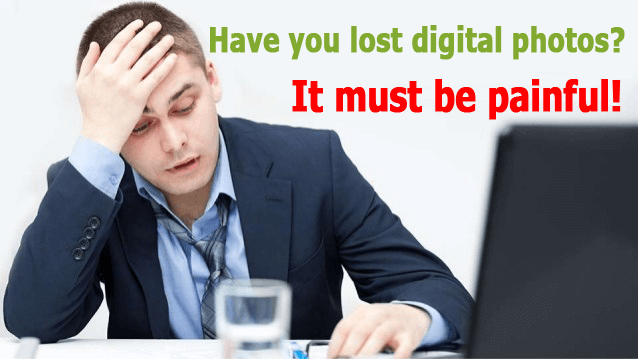 Have you lost images from the digital camera?
A situation where you've lost images from the digital camera will definitely bring you to tears. Photos and pictures are truly valuable for everyone as they bring back the old memories. Loss of such photos and pictures is just unaffordable. Just think you go to a marriage party or a holiday tour. You take thousands of photos there from your digital camera. You see the pictures next day, they're absolutely fine. But when the time comes to save them on your computer system, you just can't. You find most of the photos and pictures are corrupt or gone. How would you deal with this situation? There might be any reason for this loss, but the result is always the same.
You're lucky if you're having backup..!
You must have seen data recovery experts and professional users always recommend to take backup. Why? What's the real need for a backup file? How and why backup is useful for almost every single computer user? In these days, the terms backup and data protection have become synonymous. A backup file is just like a computer file containing data and information. It can store a very large amount of data which include everything, such as documents, emails, audios, videos, pictures, database, system files, archives, operating system files, etc. The primary function of a backup file is to provide users a medium through which they can restore their data at the time of data loss. Whatever type of data loss it is, you can take help of a backup file for data restoration.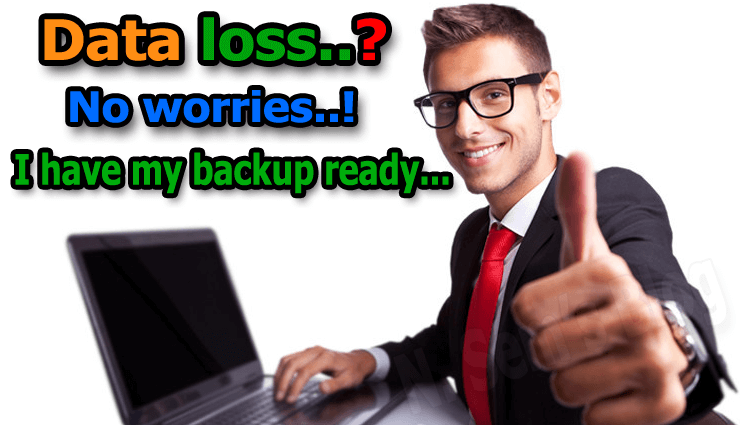 A backup file plays the role of a lifesaver at the time of data loss. It helps you restore lost photos, pictures, and all other data which you've backed up earlier. You can take backup of your computer data with the help of NTBackup utility, a freeware tool provided by Microsoft. Also, you can try few commercialware tools which can provide more benefits. You can only restore your data from the backup file if it's in a valid state, i.e. not corrupt. If the backup file is corrupt, neither you can open it nor can you restore anything from it. Being a computer file, backup is not immune to corruption. There are numerous reasons which are highly responsible for corruption in BKF files. Refer to this article for complete information – How to Repair BKF File?
Why should you update backup?
There are three types of backup: full backup, incremental backup, and differential backup. In these days, incremental backup is quite popular among users. To restore maximum possible data from backup, you must update it regularly. Why? Just consider this scenario:
You took backup of your computer system into an external storage media a couple of weeks ago. Since then, you've been adding more and more data to your computer. Whenever you add new data, you should update the backup file so that you can restore maximum possible data from it. For example, when you took a backup, the total size of your data was 100 GB. After a week, you added 50 GB more data. And again in this week, you added more 50 GB data. Yesterday, you faced data loss situation due to any reason, be it accidental deletion or corruption. You can use the backup stored in your external storage media to restore your lost data. If you took backup two weeks ago and didn't update it, you can only restore 100 GB of data.
I hope you understand what I'm trying to say here. If you add more and more data regularly, don't forget to update the backup file. Since data loss situation can take place at any time, you should always be ready with a valid and updated backup.
Professional Data Recovery Solutions
Why should you go for professional data recovery solutions? If
There's no backup available
The backup is available but not updated
The backup file is corrupt, i.e. not valid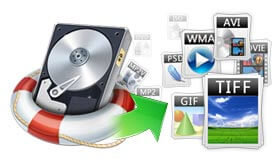 Under all these circumstances, there's no other solution left except using professional data recovery service. If you search in the market, you can find data recovery experts who provide professional data recovery services. You can hire them to recover deleted pictures and photos from the storage media. Also, they can easily perform photo recovery from digital cameras. Recovering data from corrupt or formatted media may take several hours. You have to hand over the storage media to them so that they can conduct recovery operation from it. Sometimes this may put your confidential and private data at high risk.
Photo Recovery Software
If you are looking for a free solution, Recuva would best fit your needs. Piriform provides Recuva Data Recovery tool at free of cost for Windows users, although Mac users need to pay a handsome amount for the licensed version. Recuva can recover data and files which you have lost due to accidental deletion, drive formatting and corruption. If it fails to perform as per your expectation, you can try a few other commercialware data recovery tools. One such tool is Photo Recovery software, one of the smartest data recovery software you should definitely try.
There's no need to hire any data recovery expert as you can perform data recovery from any type of storage media all yourself. You just need to run the executable file on your system for software installation. After that, you can launch the software and perform recovery of photos, pictures and all other types of digital images with ease. Such Photo Recovery software supports almost all types of storage media, be it internal or any external where internal media is the system hard disk and external media includes external hard disks, memory cards, USB drives as well as digital cameras of all popular brands.
Note: Via this software, you can also perform audio recovery and video recovery with ease.
Key features of Photo Recovery software
Deleted Photo Recovery
Photo Recovery software can amazingly recover deleted pictures and photos from corrupt as well as formatted volumes, drives and other storage media. It supports all popular image file formats, such as: PNG, JPG/JPEG, BMP, GIF, TIF, MOS, MEF, PSP, DJVU, TGA, PGM, DNG, PSD, INDD, JP2, PCT, PBM, EPS, NEF, NRW, ORF, ARW, SRF, SR2, KDC, DCS, DRF, RAF, X3F, RAW, RW2, PEF, MRW, CRW, ICO, CPT, MAX, 3DS, DWG, CR2, ORF, AGP and many others.
Audio Recovery & Video Recovery
Additionally, Photo Recovery software can perform audio recovery and video recovery of these file formats:
Audio file formats: MP3, WAV, RM, ACD, AMR, AT3, AU, DSS, IFF, M4A, M4P, NRA, OGG, RA, SND, WMA, AIFF and many others.
Video file formats: AVI, 3GP, MP4, MKV, MOV, WMV, MPG, MPE, DIVX, M4R, MOI, OGM, SVI, TOD, VID, 3G2, ASX, MTS, FLV, VOB and many others.
Different Scanning & Recovery Modes
There are different scanning and recovery modes in this software. Standard and Advance are two scanning modes you can use to scan selected volume or drive. The recovery modes are Standard, Advanced and Deep.
Smart Preview
It provides a smart preview feature in order to check the preview of recovered images before you can save them. Once it completes the scanning of selected volume or drive, it presents a tree-structure in which you can see ROOT folder. You can expand the ROOT folder first, then you can expand other folders as well. You can click any file to check its preview in a separate window.
Availability
SysInfoTools Software provides Photo Recovery tool with the free demo version. Before purchasing the software, users must download its demo version for free evaluation. By using demo version, users can check the photos, pictures, and images which they can recover from the storage media before they actually pay for the software. If they are satisfied with the results, they can make a purchase by placing an online order. Via this software, users can recover photos from SD card and all other types of external storage media.

Watch the online video tutorial below