How to Open Corrupted Zip File in Windows
When you have to transfer a large data file to your colleagues or for professional or personal purposes, you'll convert that file into a Zip format without thinking for a moment. It is pointless to argue that the ZIP file compression format is the most recommended method of transferring or even downloading enormous amounts of data. One of the most significant advantages of adopting file compression is that it requires less storage space. However, it has several advantages in addition to such conveniences. You may occasionally encounter issues, such as the corruption of the zip file.
The primary purpose of this post is to fix such concerns as repair corrupt zip file and How to extract corrupt zip file data? So that you may easily recover and use your repair.zip file. However, you can also use the SysInfo ZIP Repair Tool to repair corrupt & inaccessible ZIP files.
What to do, If you Fail to Open Corrupted zip file
If you fail to extract files from corrupted ZIP folders, then you need not panic. Instead, follow the measures to repair zip files. Some of them were manual, and if you fail to fix corrupted RAR files manually. Then you can also use a professional approach.
Some Manual Tricks to Unlock Corrupted ZIP file
A few manual approaches to extract files from corrupted Zip folders. Look at the glance about these:
1. By Power Archiver
If you are looking forward to recovering an invalid zip archive, then this method is for you. We know that it is one of the best software that you can use free of cost. Moreover, this tool gives the best results in broken RAR file repair. It is a very simple tool; follow the steps to operate it.
1. Install the freeware software.
2. Go through the Tool menu > select Repair Zip Option
3. Optionally, you can use CTRL +R to speed up the process.
4. Select the Zip File that you wish to repair.
5. Enter the file Path manually > Start
Note: This PowerArchiver will fix that corrupted Zip file whose archive is inaccessible.
2. By WinRAR
As this method is so easy to fix corrupted RAR files. To go with this method follow the steps:
1. Open the corrupted Zip file with WinRAR by right-clicking on the file.
2. Select on Tool Tab and select Repair Archive or Alt + R.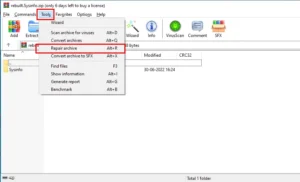 3. Now, select the destination for your output file and click OK.
4. Click close when your repair process ends.
5. Finally, your file appears with a prefix rebuilt (the name assigned by you).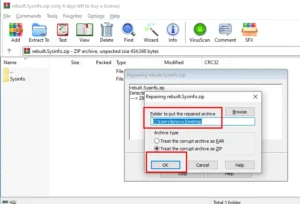 Alternatively, you can also choose the Repair Tab instead of the Tool Tab and select the destination for your output file and follow the same process as above.
3. By Diskinternals Zip Repair
It is another freeware that helps to a step move ahead in the task to Open Corrupted Zip file.  Follow the steps as instructed:
1. Install this freeware software.
2. Configure the program as per your need and then launch it.
3. Click the Browse button to add a corrupted file.
4. Repeat the above step, this time Browse the Repair file, to choose the destination for your resultant file > Next.
5. Now, check the chosen location to check your output file.
4. By WinZip Command Prompt
If you have a version of WinZip 11.2 or higher, you can use Windows Command Prompt to restore your damaged ZIP file. This is especially useful for anyone searching for a more adaptable solution or who enjoys repairing such issues on their own. As you begin utilizing the Command Prompt procedure to open corrupted zip file, make sure to go through the following steps:
1. Open the dialog box by Win + R.
2. Type "cmd" >Ok, to open Window Command Prompt.
3. Enter the command C:\Program Files\WinZip\wzzip" -yfs zipfile.zip.
Note:- Replace zipfile.zip with the original file name.
5. By DataNumen Zip Repair
It is another free software that is widely used to repair corrupted Zip files. it again comes with simple steps for its operation. Follow the steps to use this freeware:
Download the software and select the option to continue personal if you wish to use it free.
1. Select the file that you seek to repair.
2. Choose the destination for your Output file.
3. You can select single or multiple files to repair.
4. After selecting the files, Hit the button Start Repair.
5. Once the repair process is finished, a pop-up screen displays the status of your recovered file.
If you want to know methods to open RAR files without WinZip then you can check this another blog.
An Expert Solution to Open Corrupted Zip File
The SysInfo Zip File Repair utility has a sophisticated recovery algorithm that efficiently removes all data from corrupt, inaccessible, and compressed ZIP files. The software is extremely effective at repairing y inaccessible.zip files generated by WinRAR, WinZip, or any other program. It is one of the most effective solutions for repairing damaged Zip files or invalid ZIP archives that have been Spanned or Split. You can use this if you regularly get the message "Cannot open file, invalid Zip archive" and feel difficulty to open corrupted Zip file.
Steps open a damaged ZIP file
As this software is easy to operate, you need to follow the instructions as stated.
1. Start the software and run it as an administrator.
2. Select the ZIP file and tap Next.
3. Then, pick the recovery mode as per your requirement.
4. Next, browse the destination for your output folder, you can also save it at the original location.
5. Tap save to start the saving process.
As these are some simple steps of this utility that can help you to open corrupted zip file.
Final Words:
In this blog, we have learned about different software that comes with the best compatibility to open corrupted zip file. However, most are freeware but do not give you the assurity that it can give the best result to beat your problem. Contrary, Sysinfo Zip Repair Tool assures you to deal with your problem and gives you the best result.