Best Ways to Import EML to Outlook – Successful Solutions
Outlook's capabilities go beyond just sending and receiving emails; in addition, it gives users access to calendars, contacts, notes, and other management tools. As a result, it is the best choice for any professional and keeps establishing its credibility. And a significant number of users also want to move EML files to Outlook. Therefore, in this blog. we will learn how to open an EML file in Outlook and how to import it.
Outlook uses the PST file format to store its data. In contrast, Thunderbird, Apple Mail, Windows Live Mail, Outlook Express, and the like store their data in EML files. The question at hand is: Can I open an EML file in Outlook? Therefore, in this blog, we'll focus on how to import EML to Outlook, but before importing, you need to convert EML to PST. Alternatively, you can use the Sysinfo EML Converter Tool for migration.
Methods for Outlook EML Migration
Although there are numerous EML migration techniques, they all depend on the type of applications you have. Let us explain further about every approach.
Method 1: Importing EML files into Outlook via Window Live Mail
Users of Windows 7 and those who have older versions of Outlook can use this method. Microsoft stopped providing its services for WLM after the release of Windows 7. Furthermore, this strategy can only be implemented if Outlook and WLM are both present. If you meet all the requirements, proceed as directed.
1. Open Window Live Mail, then select the File tab > Export option > Email messages.
2. Select MS Exchange as the Export option in the following wizard, then click Next.
3. Then a pop-up will inform you that all your WLM messages will be exported to MS Outlook and MS Exchange. Tap OK.
4. In the subsequent wizard, select messages or all folders to export and then OK.
5. After doing so, click Finish.
Method 2: Import EML to Outlook using the Microsoft Outlook program.
To use this approach, make sure Outlook is installed on your computer and follow the instructions.
1. Launch MS Outlook, and move your cursor to select the EML files.
2. These files can now be dragged and dropped into the Outlook folder. You can choose all of them at once.
3. Your messages are imported into Outlook after completing these steps. Now, you can open the EML file in Outlook.
Method 3: Migrate EML to Outlook via Outlook Express Application
You must have Outlook and the Outlook Express Application to complete this migration task. If you have both, then adhere to the instructions.
1. Navigate to the File menu in Outlook.
2. Then go to Open & Export > Import/Export >Internet Mail & Addresses > Outlook Express > Next.
3. Once you've done all this, click on Finish to complete the task.
Method 4: Import EML to Outlook by EML Converter
This is among the best and simplest ways to import EML into Outlook. You can accomplish this task with the help of this Sysinfo EML Converter. With the help of this tool, you can quickly convert one or more EML files into a number of formats, such as PST, PDF, HTML, EMLX, MBOX, and others. Furthermore, users of this tool can export EML files into Office 365, Gmail, Hotmail, IMAP, Thunderbird, AOL, etc. You can use this tool by performing the steps.
1. Download and install the EML Converter, and run it as an administrator.
2. You have the choice of selecting a single EML file or multiple files and folders in the ensuing wizard.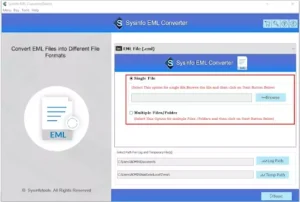 3. Click on the Select files/folders to add EML files > Next.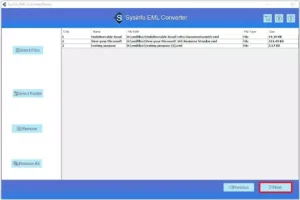 4. You can preview the EML files or folders you've chosen.
5. Check the folders from the tree structure that you want to convert, and tap Next.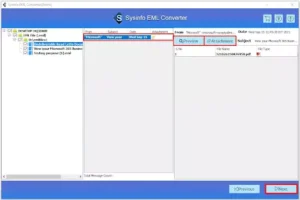 6. Select the file format as PST.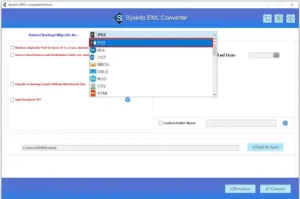 7. In accordance with your needs, you can also turn on the features "remove duplicate mail, migrate or backup without attachment files, split resultant PST, etc."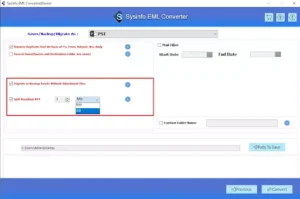 8. Then check the Mail Filter option to select your mail within the specified dates.
9. Assign a name to your resultant folder.
10. Select a location for your output folder and click the "Path to Save" button.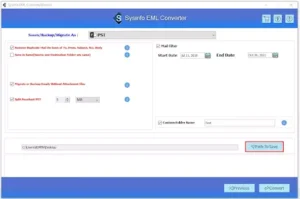 11. Finally, click on the Convert button to convert EML files into PST.
The Essence of the Words
This blog has taught us how to import EML to Outlook, and we've also seen that manual methods are either outdated or require particular care. On the other hand, using an EML converter eliminates the need for a specific migration strategy. Therefore, we advise choosing an EML Converter that can convert EML files into a number of different file formats in addition to migrating them.
FAQ
Q1. Can Outlook open EML files?
Answer 1. By default, EML files are opened automatically in Outlook 2010 and later versions.
Q2. How to Open EML file in Outlook?
Answer 2. Select the Mail > Right-Click > Open With > Select the desired icon or app