How do I Convert EPUB file to a Word Document?
Summary: EPUB (Electronic Publication) is an extension used for the ebook file format by e-readers across the Globe. There is a lot of software that provides you with the feature to view your .epub file. But some advanced and intuitive features insist users convert an EPUB file into a Word document. It is commonly used as the format for sending text documents via email.
In this blog, you will find the complete solution to convert EPUB to Word using the best EPUB file Converter Tool named SysInfo EPUB Converter. Before that, let us check out some comparisons between EPUB and Word files.
Difference between EPUB & Word
The characteristics of both extensions are displayed below:
| | |
| --- | --- |
| EPUB | WORD |
| It is an extension of e-books. | Word is a complete application with the extension as Docx. |
| It contains images,formatting,HTML files etc. | It includes images, tables, charts, links, text and page formatting, and many more. |
| EPUB stands for electronic publication. | Docx stands for Documents where x is for extreme performance. |
| EPUB is a read-only type of format | Whereas Docx can be read and edited by the user. |
These were some key differences between the .epub and .docx file formats. However, there are some similarities in these extensions as well.
let's have a look at them:
Platform Independent: Word document is quite popular in the corporate sector as it can run in almost all types of Operating systems. However, EPUB widely comes into use for reading e-books around the globe.
Security: Both Formats offer the privacy of data to the users.EPUB has the facility of DRM(Digital rights management) which means copyright of data has already been established.
Move forward to know the step-by-step guide of using EPUB to Doc converters freely.
How to Convert EPUB to Word Document?
Unfortunately, there is no such manual method for converting EPUB to Word. But for every problem, there is always one solution. In this case, the Best EPUB to word converter is the most effective way to solve your issue.
Advantages of using EPUB into Word Converter
It converts EPUB files in an instant.
Allows users to select multiple files or folders to convert them into word files.
SysInfo EPUB Converter is capable of moving EPUB files into different file formats like Doc, Docx, PDF, XPS, JPEG, BMP, GIF, PNG.
It contains many features to help the user with efficiency.
All the files will be stored in your system easily without any data loss.
Compatible with all the versions of Windows like Windows 11, 10, 8.1, 8, 7, XP, etc.
Prerequisites of Using this Software
Pentium class processor
Minimum 512 MB RAM (1 GB recommended)
Enough space to store the output.
Step-by-Step Procedure to Convert EPUB to Word
Download, Install and Run the software as Administrator.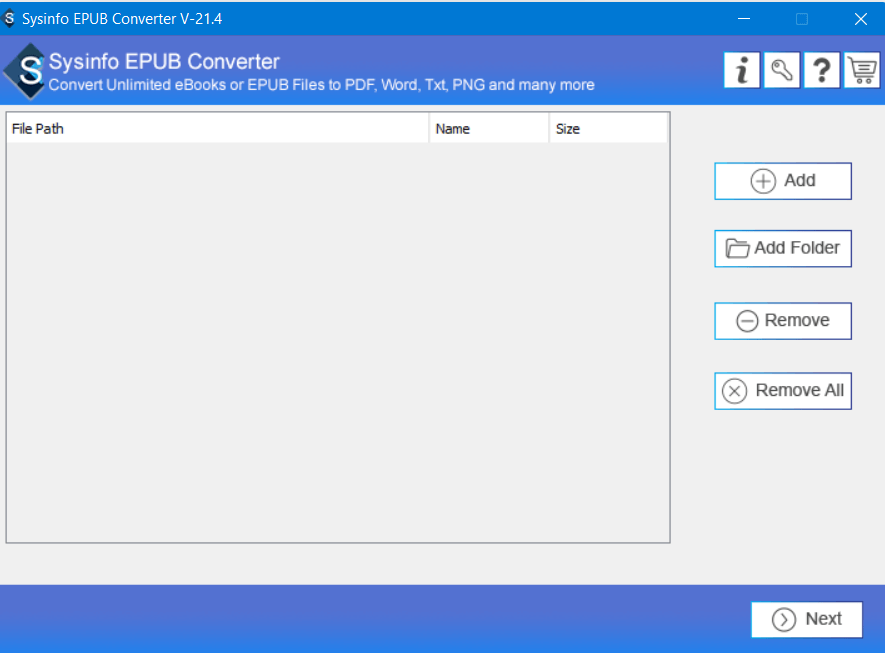 Select your EPUB file by using the ADD button.
You can also select the entire folder to convert.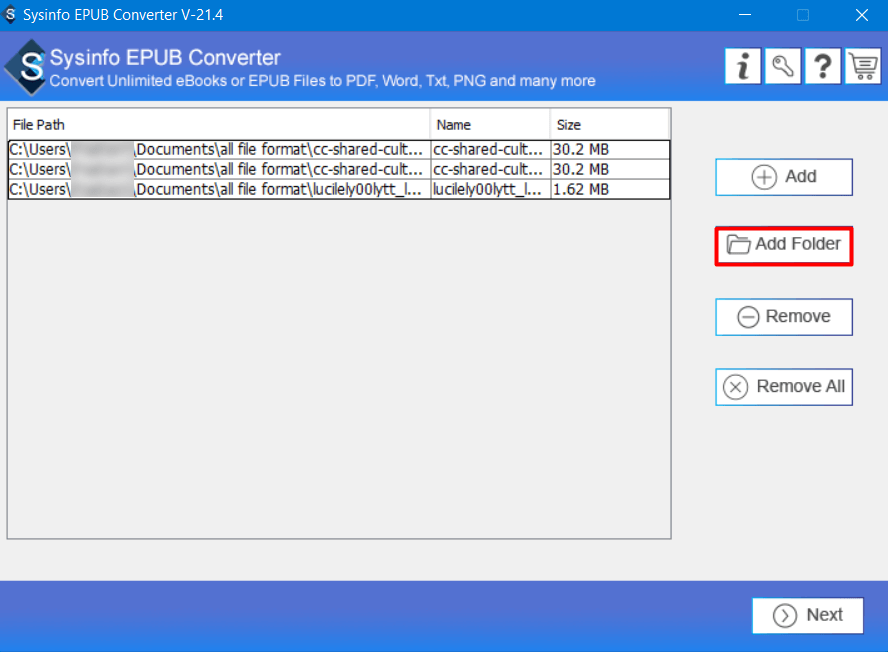 Here, Choose DOCX from the drop-down menu.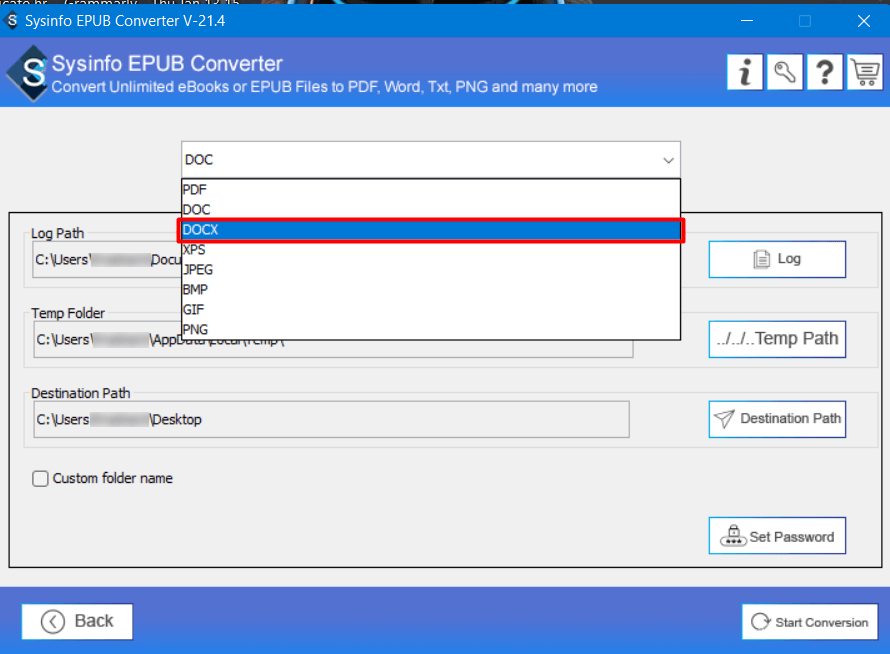 You can browse your saving location by using the Destination path button.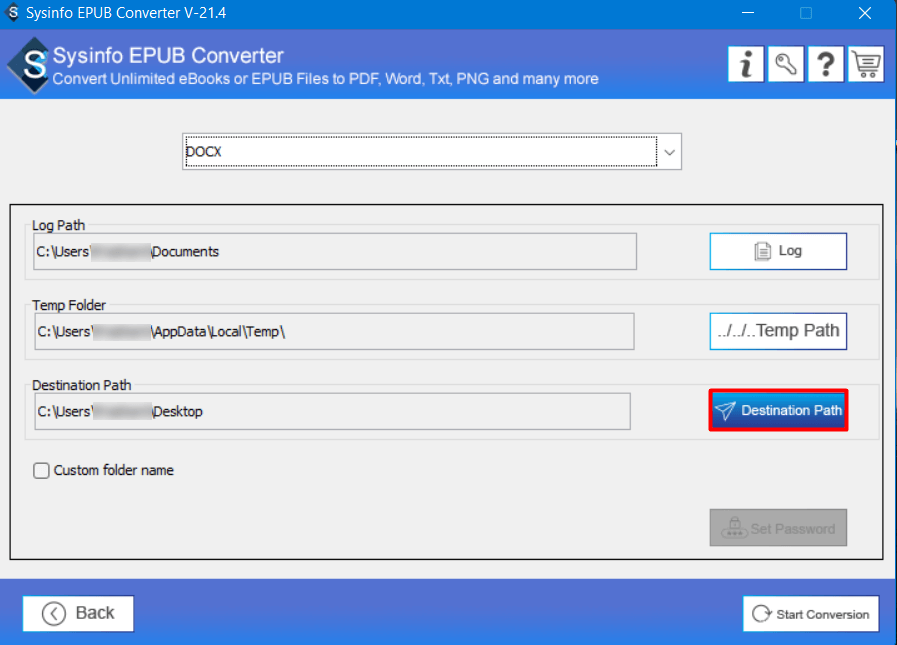 Tick the Custom Folder Name to customize your folder name.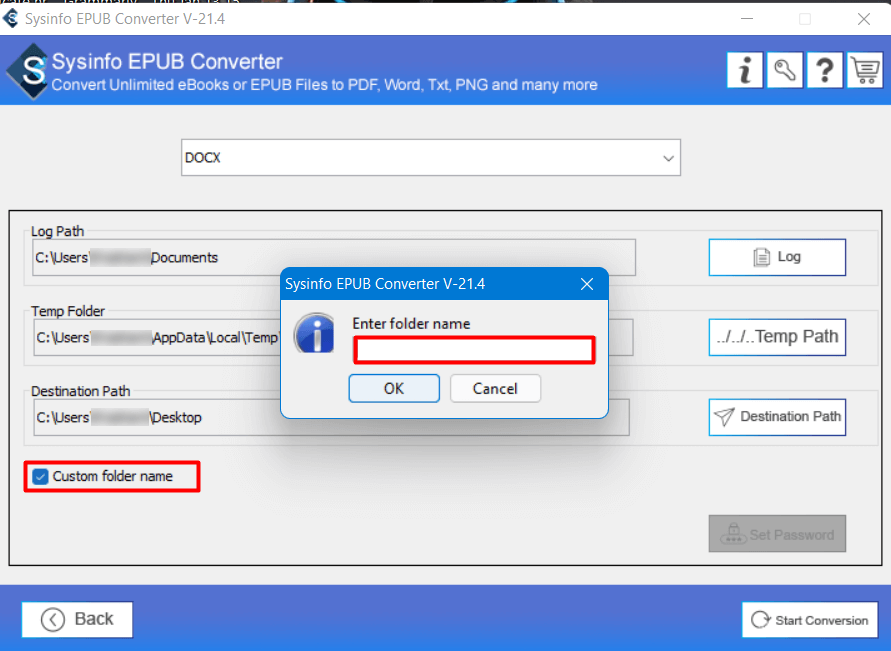 Set Password button offers setting up the password to the resultant folder.
Click Start Conversion to convert your EPUB file/folder into Word document(DOC or DOCX).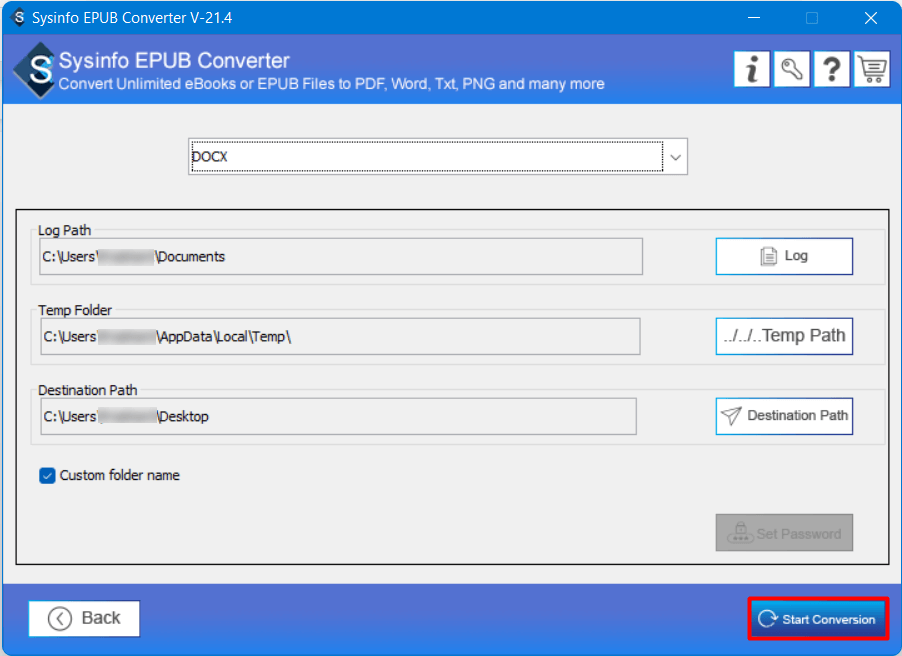 Use Download Report to save the report in your destination folder.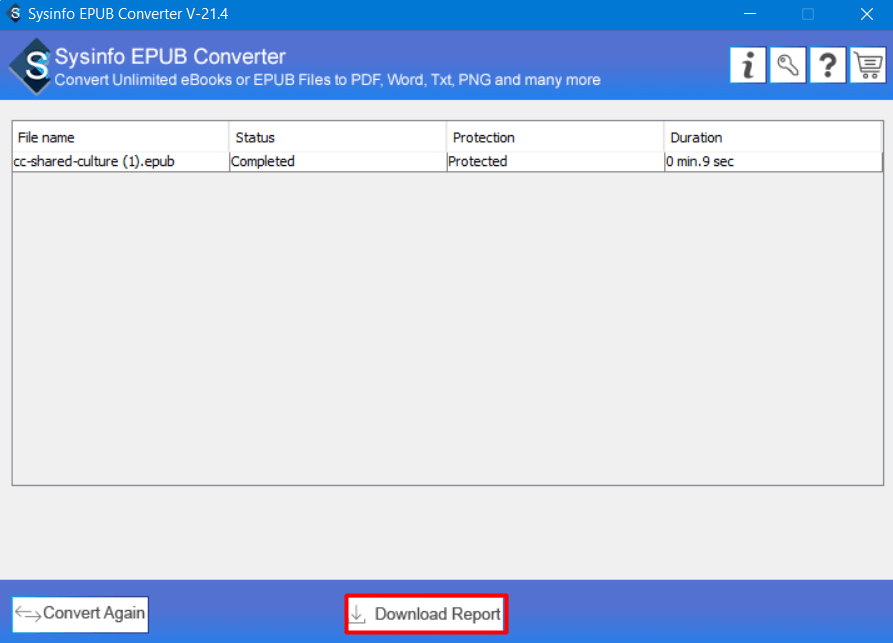 Finally, You have successfully completed the process which convert EPUB to Word.
Conclusion
Nowadays, moving EPUB to Word can be complex if you don't know the exact method. In this article, we compared the features of EPUB & Word and also learned the technique of converting EPUB to Docx using a Professional tool. We hope you all found it convenient and easy.
FAQs
Can we open EPUB file to Word?
→ Yes, you can open your EPUB file in Word. But first, you have to convert the EPUB file to a Word document.
How do I Convert an EPUB to a PDF?
→ There is a lot of software to convert EPUB files. Follow the steps to convert EPUB to PDF:
Open the Software and add your EPUB file.
Choose PDF from the list of file formats.
Opt for the features if necessary
Click on Start Conversion to move your resultant file into your desired location.
What is best eBook Converter?
→ The best eBook Converter is SysInfo EPUB Converter because of its multiple features written below:
Allows users to Convert EPUB to Word, PDF, GIF, JPEG, PNG, and other file formats.
You can select multiple files or folders to Convert.
Interactive UI with easy controls
It Contains several features like Custom Folder Name, Set Password, etc.
This tool Ensures 100% accuracy and reliability.