Use scanost.exe (Integrity Check tool) to Repair OST File
Are you having corruption in your local Outlook offline folders? If you want to repair OST file, you've come to the right place. Microsoft provides the scanost.exe utility to repair OST file. OST aka offline storage table is an Outlook offline folder file created on the local system. It's very similar to PST aka personal storage table used for storing email and other mailbox data.
Corruption can cause inaccessibility in mailbox content, or sometimes may cause severe problems like permanent data loss. In such situation, you should try scanost.exe (the Integrity Check tool) once to repair OST file. Before we can discuss more here, let's first talk about Microsoft Exchange Server, its use with Outlook email client. In this post, we'll also learn the reasons for OST corruption. In the end, we'll check its solution.

If you're running or working in a large organization, you must have heard about Microsoft Exchange Server. Or many of you would be a part of it. Large organizations and companies use Microsoft Exchange Server to manage, distribute and store companies' crucial emails. If you're a part of an Exchange Server, you can store and share contact details, schedules, tasks, etc. with other users connected to the same Exchange Server. The best part of an Exchange Server is its security feature. It provides high-level security and protects users against viruses, spams, and hackers.
Outlook with Exchange Server
To be a part of Exchange Server, the administrator creates your user account and provides you a unique password to login to the Exchange Server. If you're using Microsoft Exchange Server account, all your email messages, calendar, contacts and other mailbox items are stored on the server. Microsoft Exchange Server creates database files with EDB extension to store all the data saved by Exchange Server. To open or view EDB files, it mainly requires connection to your Exchange Server account. Think about this scenario: you're not connected to the Exchange Server or it's not possible to access your Exchange Server account at the moment. To avoid such situations, you can keep a local copy of your Exchange Server mailbox items on your computer. Outlook creates an Outlook data file in OST or offline storage table format.
The mailbox items are saved in an Outlook offline folder file, which is known as OST or offline storage table.
To keep local copies of your mailbox items on your system, you need to configure your MS Outlook to Exchange Server. Click here to know how to configure MS Outlook to Microsoft Exchange Server
The main advantage of an OST file is its offline feature, i.e. you can use it in offline mode. This means you can use your OST file even if you're not connected to Exchange Server. The offline quality enables you to make changes to the mailbox content when you're offline, i.e. connection to Exchange Server is not available. You can update the folders when you're reconnected to Exchange Server. This process is known as synchronization of folders.
OST File Location
Do you know the OST file location on a local system? Have you ever tried to find out their location? The default location of OST files is based on the operating system:
Windows 7 and Windows Vista: drive:Usersuser\App\Data\Local\Microsoft\Outlook

Windows XP: drive:Documents and Settings\user\Local Settings\Application Data\Microsoft\Outlook
Like every single computer file, OST file is also prone to corruption due to several reasons. If your OST file is corrupt, you'll definitely face inaccessibility of your mailbox content.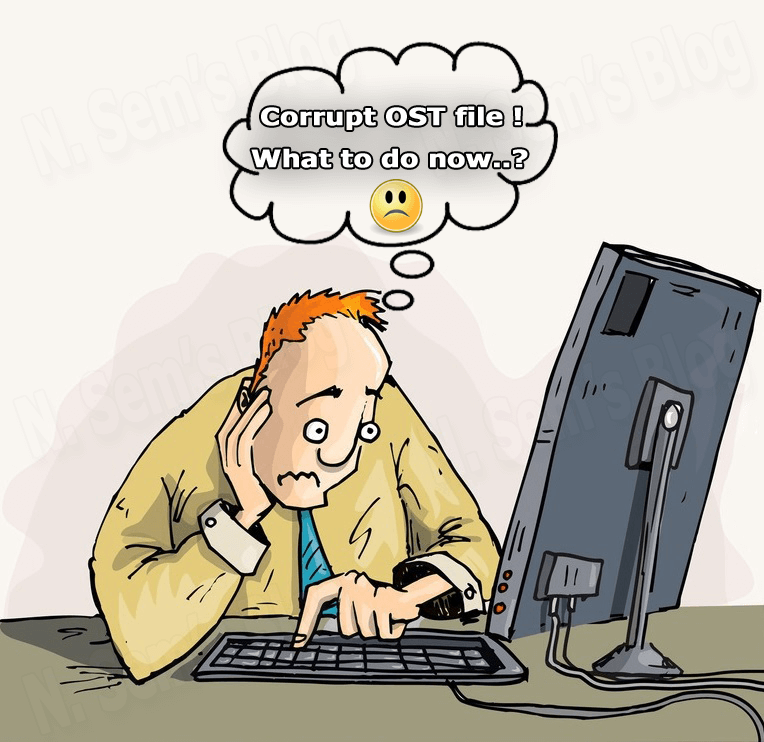 Just look at the most common reasons below which cause corruption is OST files:
Hardware Related Causes
Sudden Power Failure: Sudden power failure might be dangerous sometimes for system hard disk as well as for the data stored in it. Sudden system shut down during synchronization, may cause corruption in OST files. Make sure no such unwanted interruption occurs during any process.
Hard Disk Drive (HDD) Failure: The main reason for hard disk drive failure is the bad sectors contained in it. It may cause abnormal behavior or poor system performance. The OST files are at high risk if stored on the bad sectors of hard disk. The files may become inaccessible in such situation, and you can't read the mailbox content anyhow.
Network Connection Failure: Most of the time, OST corruption occurs during synchronization with Exchange Server. This is just because of network connection failure due to faulty network devices, such as NIC or network interface card, network cables, routers, hubs, and other devices used for the internet connection.
Software Related Causes
Virus Attacks: This is one of the most common reasons for corruption. A computer virus or bug may attack your OST files, or the drive/folder. Just because of this, an OST file becomes inaccessible or corrupt.
Unexpected Cancellation: If you terminate your Outlook application forcefully, or it gets terminated unexpectedly due to any other reason, this may cause severe issues including file corruption. Make sure no such activity takes place while accessing, working or synchronizing the OST files. Also, avoid terminating Outlook client from Task Manager.
Synchronization Error: This is one of the most common reasons behind OST corruption. Synchronization is a process of updating OST files to Exchange Server in which you've recently made changes. If any type of interruption takes place due to any reason, it may put your OST files at high risk of corruption.
Software Malfunction: Software malfunction means a software application starts hanging, acting abnormally or collides with any other software applications installed on your system. Outlook email client is also prone to malfunctioning due to various reasons and may cause corruption in your OST files.
Above few common reasons are highly responsible for OST corruption. Now you must be looking forward to a solution that can repair OST file. You're lucky enough as you're at the right place at the right time. Microsoft provides a couple of built-in utilities to repair Outlook data files. Like scanpst.exe, there's also a utility to repair OST file, scanost.exe aka Integrity check tool.
How to Repair OST File?
Whenever an OST file becomes corrupt due to any of these reasons, you can use the Integrity Check tool aka scanost.exe, to repair OST file. Professional users recommend this tool before you can go for any paid software utility. First, you need to locate the executable file of scanost.exe before you can use it. How? See below:
Find out scanost.exe location…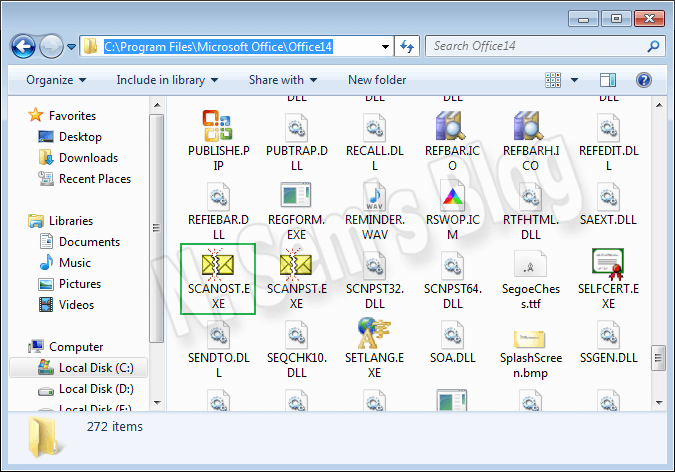 Find out the scanost.exe in the following locations according to your Outlook version: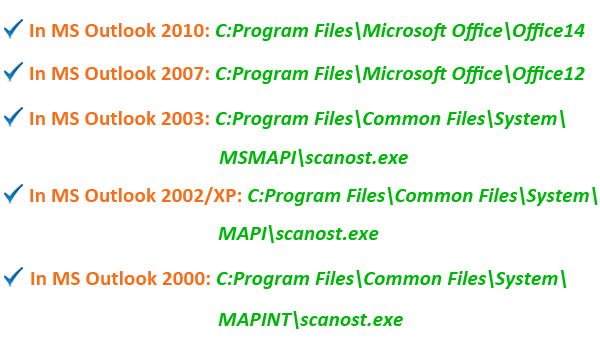 To perform the integrity check on OST files with the help of scanost.exe, make sure Outlook application is not running on your system.
First of all, locate scanost.exe on your system. Now right-click it and run it as an administrator. Then you need to follow these steps:
Step 1: When you double-click scanost.exe, the Microsoft Outlook Inbox Repair Tool window will appear on your screen. Now select the profile that contains the corrupt OST file.
Step 2: Choose the folders you want to scan. You may select Scan all folders to scan all the folders, or you may select the specific folders from the list.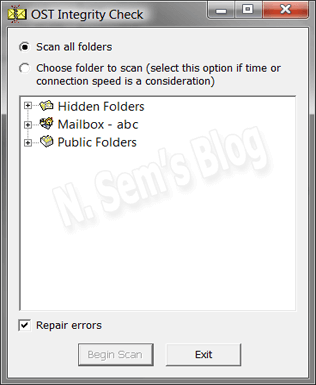 Check the box Repair Errors to resolve the issues.
Step 3: Now click Begin Scan to start scanning the selected OST file.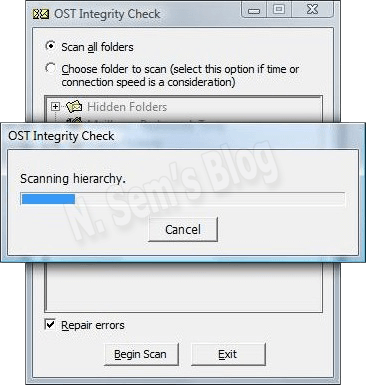 This will start the scanning process on your system. Don't cancel the process.
Step 4: Within a couple of minutes, you'll receive a message saying "OST repaired successfully".

Finally, click OK.
Professional solution to repair OST file
The Integrity Check tool aka scanost.exe is not always an effective solution for corrupt OST files. Sometimes it may fail to fix corruption and can't repair OST file. In MS Outlook 2010 and later versions, the Integrity check tool is not available which may cause a problematic situation for Outlook users. In such situation, you can try OST Recovery software. It's an advanced recovery solution for corrupt OST files that can recover maximum possible data from them. It can fix any level of corruption, i.e. moderate or severe, from Outlook OST files, and repair them. Also, it works as an OST Converter tool, i.e. it can convert OST to PST and other popular formats. It allows users to save recovered data in different formats, such as PST, MSG, DBX, EML, MBOX and archive format.

Users might also be interested in Convert OST to PST Format using 3 Easy Manual Tricks
Watch the online video tutorial below