Best Free Methods to Repair Corrupt PSD File Online!!
As we all know one of the most popular tool Adobe Photoshop is used for working on high quality graphics. Just because of its vast functionalities it is the preferred software among illustrators, designers, producers as well as publishers. Basically, it has a default file extension .PSD( Photoshop Document) and PSB(Photoshop Big). Among both PSD file is the main file as it has a height, width of 30,000 pixels and length up to 2GB. Because of such characteristics it is extensively used. Generally, many times in a hurry users forgot to save PSD files properly or delete it by mistake. To avoid such interruptions, you will see some smart techniques to repair PSD file which will definitely help you to fix such issues from now onward.

Methods To Repair Corrupted PSD File Manually
Method 1: Backup is a Savior
I always suggest users to have a backup of their important files. It helps them to deal with situations like corruption, errors, accidental deletion etc. By implementing such ways you can successfully resolve issues present in PSD file without any dependency.
For this you can store the backup on the external storage devices or use Windows backup utility. It is very simple to do this you just need to enable a feature.
See the below-mentioned steps:
Step 1) Firstly, click on Control Panel & then click on System Protection.
Step 2) Now, below Protection Settings, make sure it is ON.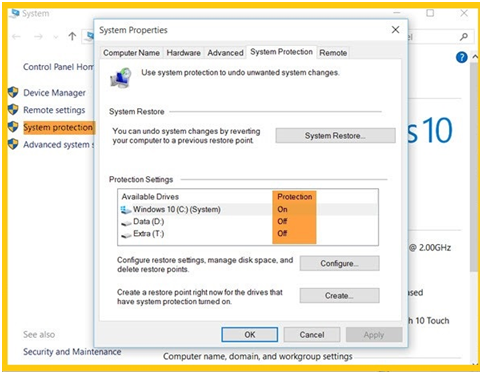 Method 2: By Temp Files
Another reason for PSD file corruption is when system is abruptly shut down or adobe Photoshop is crashed. To quickly come out of such situations you need to restore PSD files which you can do it by following ways:
Step 1) Open hard drive & select Document and Settings.
Step 2) Now, have select a folder which has your user name and then select Local Settings < Temp.
Step 3) Locate the files named Photoshop & open it in Photoshop.
Step 4) Now easily you can change the extension from .temp to .psd.
Step 5) Save the files.
By doing this you will be able to repair corrupted PSD files online.
Method 3: Go to Recent Tab
To recover PSD file, this is one of the easiest way among all manual approaches. You just need to check the restore tab. And, to do it you can go to File tab, then click on Open Recent and search the required PSD files.
Method 4: PSD Recovery Tool
If all the above-mentioned methods are not able to recover PSD file, then you can try a professional approach to resolve such issues. And, that approach is PSD repair tool by SysInfoTools. With the help of this tool you can easily get rid of issues like corruption, accidental deletion etc.
Notable Features of the software are as follows:
Repair PSD, PDD and PSB files of Adobe Photoshop
Preview of Recovered Data.
Use RAW Recovery for maximum recovery.
Two modes of Scanning available: Standard and Advanced.
Compatible with all the version of Windows OS.
Conclusion
Although there are manual approaches to repair PSD file. But for its swift recovery users can opt for a reliable tool to fix PSD files and use its features for multiple purposes.
Through this blog, I have covered all the manual and free methods to recover corrupted PSD files. Although manual methods have many drawbacks and not suitable to restore PSD layers. Hence, for accurate results, you can go for a professional approach.